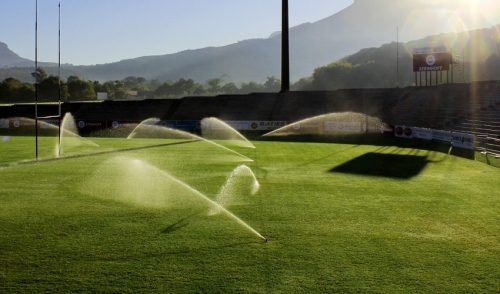 Sprinkler systems are huge time-saver when it comes to taking care of your lawn and garden. They are even more important if they're used for larger commercial and residential spaces as they get the job done quicker and more efficiently than any single person could. Each sprinkler system comes with its own set of bells and whistles. They are custom to the space they are designed for and are often unique to its own standards. An important part of any sprinkler system is the piping that connects it all together. The type of piping varies from consumer to consumer, but there are three types that can be used for sprinkler systems: Steel, Copper, and Plastic. Each one has it owns advantages and disadvantages. Take a dive into this article to learn more.
Steel has long been a mainstay of piping materials in the development of sprinklers. Its strong, durable, fire-resistant, and protective. For the purpose of irrigation systems, steel comes in two sub-types: black and galvanized. Black steel piping is simple bare steel whereas galvanized is coated in zinc to protect the pipe from corrosion. Both are great options if the system is set up properly. While steel pipes may come at higher prices, they last longer and are not easily damaged. Using a stagnant piping system, the corrosion of the steel is decreased as the oxygen within the water quickly dissipates. However, over the course of 15-20 years, these pipes can become corroded causing rust and blockages within your system. Make sure to provide proper annual maintenance to reduce potential problems and extend the life of your system. Similar to steel, copper is another great piping material. When it comes to commercial irrigation systems, copper is the preferred choice as its required by many plumbing codes, it doesn't rust, and will easily blend in with its surroundings should the pipe remain visible. When using copper, make sure the fitting joints are brazed unless otherwise permitted. This is important as the working pressures of traditionally soldered copper joints is less than that of the tube itself which is problematic if not addressed during installation. The last and most popular pipe to use in sprinkler systems is plastic or PVC pipes. Poly vinyl chloride (PVC) is hands down the most durable thermoplastic pipe on the market and widely used for both commercial and residential irrigation systems. For many home contractors, unless a need for larger pressure mainlines is required PVC is the go-to option for pipes used in sprinkler systems.
Each of the three options described in this article are great choices depending on the needs of your irrigation project. A combination of the three could also be used along with other piping materials for laterals and sub-mains. Regardless of what you choose, gather thorough knowledge of the materials before putting them into place. Irrigation and sprinkler systems have evolved in the last 50 years increasing efficiency of water transportation and generating designs that perform better and last longer. Selecting the right material will ensure your sprinkler system is effective and endures over time.